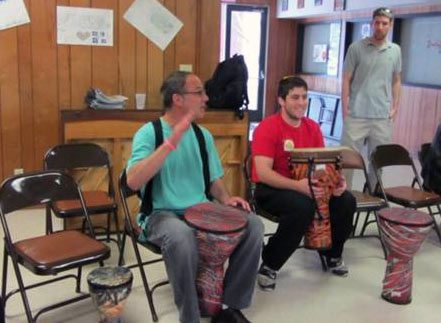 What could be more fun than playing drums with friends?  I have been leading drum circles and ensembles for over 25 years and they are instructive and fun for all ages.
I like to use two approaches in drum circle and ensemble playing. The first approach is to teach the participants how to put together 3 or 4 simple rhythms on different instruments to create a groove. Show them how the parts fit together and that the sum is greater than the total of the parts. The second is focused on teaching individual expression and that everyone has a unique voice.  This is achieved by having the ensemble play a simple "break" rhythm that each player solos over and then have everyone play improvised phrases. I teach them that when expressing oneself there are no mistakes.
I have done many private parties for ages from 6 to 80. My philosophy is that playing music should always be fun and an exercise where multiple generations can exchange ideas creatively.  In addition to private events I have lead drum circles at The Ford Theater, Camp Brenna, A.C. Stell Middle School, A.E. Wright Middle School, The Yavneh Academy, The LA County Jewish Fair and many temples and churches.
Nothing is more fun than playing drums with friends.
To book a Drum Circle, contact Jeff Stern.